Kinesio taping therapy can be a successful component of physical therapy programs for different patient types. At Total Physical Therapy, our professionals use a wide range of techniques to bring you the best treatment possible. We strive to incorporate as many treatment techniques as possible to create a tailored program with comprehensive results.
What Is Kinesio Taping?
Kinesio taping uses a rehabilitative approach that revolves around the elastic tape that aids the body's natural healing process. The tape provides stability to joints and muscles without restricting the body's Range of motion.
Compression isn't the only way Kinesio tape aids recovery. It also provides soft tissue manipulation, which supplements the benefits of manual physical therapy.
Kinesiology Taping Benefits
Overactive muscle relaxation
Muscle and joint support
Expediting recovery
Increased muscle endurance
Decompression for swelling and inflammation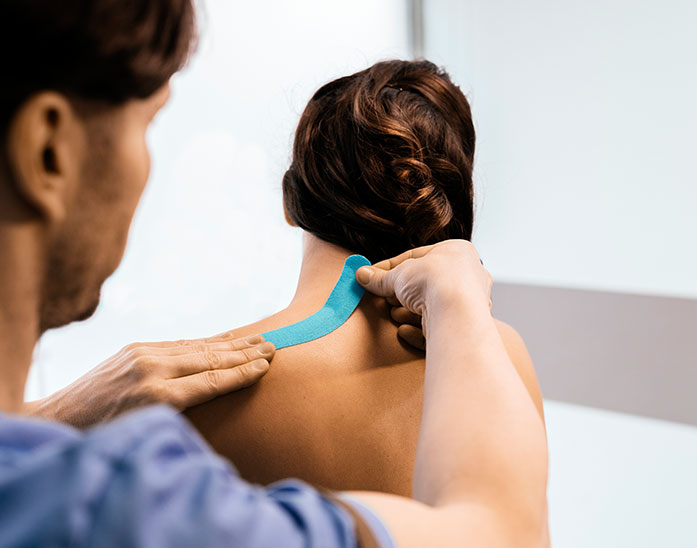 The Therapeutic Benefits of Kinesio Tape
Kinesio tape has a similar consistency to the skin's elasticity, freeing you to use your whole range of motion. With medical-grade adhesive, Kinesio tape can stay on the body for 3-5 days, creating a microscopic space between your skin and the tape that has numerous benefits.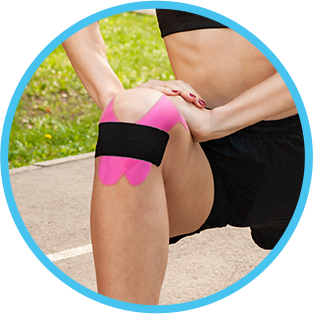 Creates Space in Joints
Studies conducted examining the effect of Kinesio tape on the shoulders and knees show that Kinesio tape increases the space between joints, thus reducing joint irritation.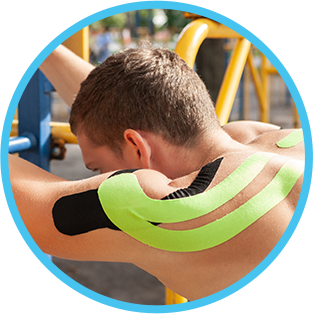 Potential Changes in Pain Pathways
Many scientists believe that kinesiology tape creates a lift that unloads tension between the skin and the underlying tissues. Decompressing those tissues can potentially change the signals to the brain. For example, applying this decompression to trigger points takes the pressure off nerve endings and prompts them to send different signals to the brain, reducing tension.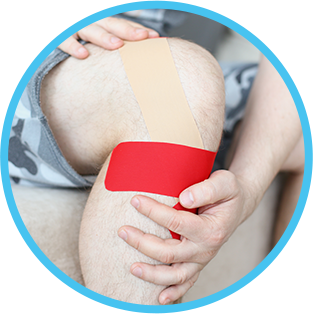 Improved Circulation
After an injury, one of the battles you face is trying to keep swelling down. One study conducted in 2017 found that blood flows more freely through the skin with kinesiology taping.
That's not the only fluid the study found improved circulation. Lymphatic fluid also appeared to flow more freely. The lymphatic fluid contains proteins, bacteria, and other chemicals that help regulate swelling and fluid balance.


Injury Treatment
Total Physical Therapy uses kinesiology tape in conjunction with other therapeutic methods. We make sure it aids in the overall therapy goals for the patient. For example, if the patient is progressing through their treatment well, we will apply kinesiology tape to prevent swelling. Kinesio tape after surgery can be incredibly beneficial to the recovery of a patient, helping to increase blood circulation that can lead to regained mobility and reduced swelling.


Structural Support
At Total Physical Therapy, we also apply kinesiology tape to provide extra support to muscles and joints. When advancing to different stages of your physical therapy, or trying to push muscle performance, kinesiology tape preserves your full range of motion while adding support. It can also increase performance.

Muscle Retraining
One of the primary focuses during physical therapy is to restore muscle activity to its pre-injury condition. Oftentimes, microtrauma caused by poor posture can lead to injuries.
Kinesiology tape retrains the muscles by directing your attention to your muscle movement patterns. The sensation of tape on the skin creates more awareness, and you can modify your posture accordingly.
Injuries Total Physical Therapy Treats With Kinesiology Tape
Total Physical Therapy treats the following injuries with kinesiology tape:
Neck pain
Knee pain
Ankle sprains
Back pain
Shoulder pain
Achilles tendonitis
Minimizing bruising
Minimizing scar tissue
Join Total Physical Therapy and Start On Your Path To Recovery
Whether it's physical therapy tape after surgery or routine therapy sessions aimed at helping you recover from an accident, Total Physical Therapy believes you should have access to a comprehensive treatment program that addresses your injuries on multiple levels. That's why we evaluate each patient to determine what course of action would work best for them.
Our programs account for your schedule and your needs. If you're looking for safe, non-invasive post-op therapy, contact us today to schedule an initial evaluation and start on your journey to recovery with Total Physical Therapy.